Foster children can stay with families until 21, under reforms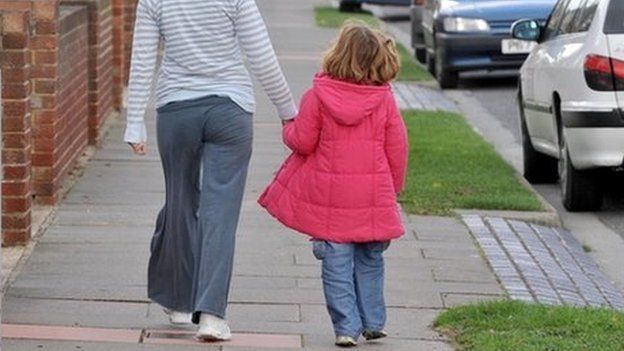 Young people in foster care will be able to stay with foster families until the age of 21, under reforms being rolled out across Wales.
The When I Am Ready scheme will let youngsters remain in "stable and nurturing" homes beyond 18, Social Services Minister Mark Drakeford announced on Friday.
Those in training or education will be allowed to stay until 25.
The move has been cautiously welcomed by foster carers.
Local authorities will have new duties towards those who wish to remain with their foster families after they reach the age of 18, under the Social Services and Well-being (Wales) Act 2014, which comes into force in April 2016.
The changes will bring Wales closer in line with fostering arrangements in England.
'Stability and continuity'
Foster carer Steven Clarke, 54, from Newport, welcomed the move but said he was concerned about funding for the scheme.
In 2013, his 17-year-old foster child, who has Asperger's syndrome, launched a judicial review proceedings to extend the age he could stay, but had to move out when he turned 18.
"He was concerned that he was going to be pushed out and would not get any further support," Mr Clarke said.
"It's upsetting. You're worried about them because you would not do this to your own child. You don't say to them at 18 'that's it, off you go' but that was the reality with foster children.
"With kids that are in care, if anything, they need more support, not less. As a society that's what we were offering."
Mr Drakeford said the new arrangements would provide "stability and continuity" for young people leaving foster care.
Action for Children's director of children's services in Wales, Brigitte Gater, said it would "offer young people a solid foundation to build their future on".
But the government "must now prioritise resources" to ensure local authorities have the funding, she added.
The announcement comes during Foster Care Fortnight, the annual awareness campaign, which is running from 1 to 14 June in 2015.
Toni Evans spent her childhood in care, spending eight years in the system in the Vale of Glamorgan between 1982 and 2000.
She told BBC Wales news she left care as soon as she could - and it was a mistake. She has set-up a Facebook page dedicated to helping those who have been through the fostering process - called "I am a foster kid".
I was under a care order all of my life.
I left care as soon as I could. I saw a volunteer opportunity in England, which I grabbed as it offered accommodation.
I should have stayed and completed my A levels, as at 17 - nearly 18 - I just went into the world.
I felt alone. No longer in care and no family.
I struggled, made mistakes, eventually found myself.
Now 33, back in Wales, I still feel alone, even though I have many good friends.
It's lonely being a foster kid, even while being in care.
The system has changed quite a bit since my time.
But the kids still feel the same as I did back in care. Like an object that needs care - not a child that needs love too.
Related Internet Links
The BBC is not responsible for the content of external sites.