Swansea council spends £75k seizing 225 horses left on its land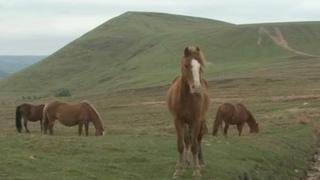 Seizing 225 horses left on its land cost Swansea council £75,000 last year.
In total, the local authority received 664 complaints relating to the issue, according to figures obtained by charity Friends of Swansea Horses.
The group was set up to raise awareness of animals being abandoned, neglected or tethered (tied) on public land.
Last year, the Welsh government introduced the control of horses act to tackle the issue of horses left on council land.
A spokesman said the practice causes disruptions in communities and is a threat to public safety.
Swansea council said it deals with incidents on an almost daily basis and as a result of cases, has banned people from keeping horses.
Over the last year, 11 local authorities in Wales have used powers under the new act, seizing more than 460 horses between them.
While tethering itself is not an offence, tying horses for lengths of time could breach the animal welfare act.