SAS hopeful died 'racing clock' on Brecon Beacons march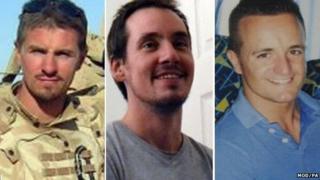 One of three SAS candidates who died following a test march collapsed after breaking into a run to make the target completion time, an inquest has heard.
Cpl James Dunsby alternated "between running and a fast walk" on the final leg of the 16-mile (26km) hike in the Brecon Beacons on 13 July 2013.
But he died from overheating, along with L/Cpl Craig Roberts, 24, of Conwy county, and L/Cpl Edward Maher.
The inquest heard the march was held on one of the hottest days of the year.
Temperatures were expected to hit 27C (80.6F) and Cpl Dunsby, 31, from Trowbridge, Wiltshire, collapsed from heat illness near a main road after his descent from Pen y Fan.
On Monday, a soldier, known by the codename 4Y, told the West Midlands inquest he and Cpl Dunsby had taken it in turns to go ahead as they climbed south Wales' highest peak.
He said Cpl Dunsby appeared to be "quite worn down" on the slopes of the mountain but increased his pace.
"I last saw James after we went over Pen y Fan and came down the other side," he said.
"He ran on ahead, saying he could make the time. I said to him 'I'm sorry, I can't, I can't go at that pace' and that is the last time I saw him.
"I saw his Bergen (rucksack) bouncing down the track."
4Y, who completed the course but missed the cut-off, said he had struggled earlier in the march.
"We were both quite worn down. I just saw him pushing on, as I was, and we were both just in that mindset to get up the hill," he said.
Cpl Dunsby died at Birmingham's Queen Elizabeth Hospital on July 30, 2013, after suffering multiple organ failure caused by hyperthermia.
The inquest has heard a combat medic and an Army instructor had not read an MoD document giving guidelines on heat illness before the march.