Taffy the Royal Welsh Regiment's goat dies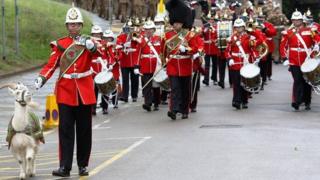 Taffy, one of the Royal Welsh Regiment's goats used as a ceremonial mascot, has died.
Officially known as Lance Corporal Gwillam Jenkins, he was descended from a blood line of Royal Regimental Goats which have been on parade since 1777.
The regiment's second mascot, Shenkin, will now be the only goat marching during a parade in Cardiff in June.
Taffy's death means a new kid goat will be selected from a herd on Llandudno's Great Orme and prepared for Army life.
A letter has been written to the Queen, informing her of Taffy's death and also asking permission for regiment to select a new goat in the summer.
The Royal Welsh Regiment is based at Lucknow Barracks in Tidworth, Wiltshire.