Paralysed marine sues MoD for £8m over beach dive accident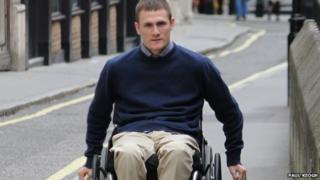 A marine left paralysed after diving into shallow waters in the Canary Islands is suing the military for £8m.
Spencer Vaughan, 27, from Cwmbran in south Wales, broke his neck in the Gran Canaria incident while on an adventure training exercise in July 2009.
The Royal Marine says the Ministry of Defence should have warned him of the dangers of diving in the area.
But MoD lawyers say Mr Vaughan was responsible for an "ill-judged decision" while relaxing with friends.
The High Court in London was told the Royal Navy soldier was injured while swimming and exercising with his commando unit on an island beach.
Mr Vaughan said he walked into the sea to "cool off", but suffered catastrophic spinal injuries when his head hit a sandbar during a surface dive.
'Chilling'
The marine's legal team have argued the incident happened while Mr Vaughan was on duty, and the MoD should bear responsibility.
But Malcolm Sheehan QC, for the MoD, said the marine was simply "chilling out" at the time.
"It is unrealistic to say that you were on duty because you had a free choice about how to spend your time," the barrister said.
Mr Vaughan denied a claim that he had run into the sea and performed a "Baywatch-style" dive, and insisted he had walked carefully into the water to avoid a young family.
Both sides accepted that the marine, who now lives in Plymouth, had sustained life-changing injuries that have left him unable to walk.
But he has has since trained as a fitness instructor, and is starting a degree in sports bio-medicine and nutrition at Cardiff Metropolitan University.
Adjourning the hearing, the judge Mr Justice Davis said he would deliver a ruling on the case at a later date.