Two men charged after Cardiff bank protest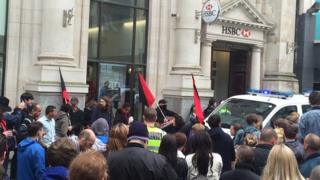 Two men have been charged with violent disorder offences following a demonstration in Cardiff city centre on Saturday.
South Wales Police said a May Day rally organised by the South Wales Anarchists group saw protestors enter the HSBC bank on Queen Street.
The two Cardiff men, aged 25 and 30, will appear in front of city magistrates on Monday.
They also face assault charges, including assaulting a police officer.