Influential Asian women in Wales celebrated in Cardiff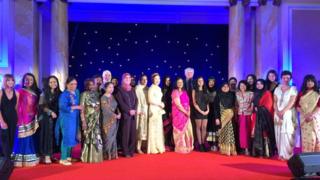 Asian women who have made a significant contribution to Welsh life have been celebrated at an event in Cardiff.
About 350 people attended the third Welsh Asian Women Achievement awards ceremony at City Hall on Saturday.
In total, 29 Asian women were nominated for recognition in eight categories, with a panel deciding the winners.
Categories included business, arts and culture, social and humanitarian and tackling violence against women.
Other winners were:
Self-development: Tamasree Mukhopadhyay, a shop manager at Kidney Research UK. She started volunteering with the Missionaries of Charity, an organisation inspired by the work of Mother Teresa, at the age of 15
Lifetime achievement award: Dr Jasbir Mahapatra, who runs St Brides medical care centre in Newport. Dr Mahapatra and her husband have put their own money in to expanding the practice, with a view to making it a 'health village' in future
Lifetime achievement award: Poranee James, was given the award for her extensive voluntary and charitable work, including providing a wide range of assistance to the Thai Consul in Wales. Poranee is also the chairwoman of the Thai Cultural Association in Wales, which has organised many cultural events showcasing traditional Thai dancing, costume and food
Lifetime achievement award: Wai Fong Lee, founder and director of the Chinese Community Co-op Centre in Swansea, which aims to tackle language barriers and social isolation faced by members of the Chinese community. She was awarded an MBE for her contribution to Welsh-Chinese relations