Mum jailed for arson on Ruabon home while children inside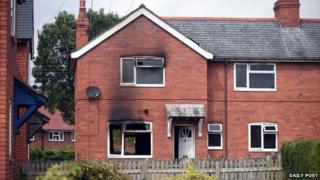 A mother-of-two who claimed voices in her head told her to set fire to her home with her children inside has been jailed.
Aimee Griffiths' daughter ran out of the house and alerted neighbours during the incident last August.
They fought through the smoke to rescue Griffiths' son and pulled her to safety, Mold Crown Court was told.
Griffiths, 30, of Ruabon, was jailed for five years and four months after admitting arson.
Judge David Hale said her actions had "defied belief".
"You were clearly intent on killing yourself and your two little children," he said.
"You were on that day, without doubt, in mental turmoil."
The court was told Griffiths, who had been drinking, had been threatened with eviction and could not cope with a number of other pressures.
The week before the fire she had been referred to a psychiatric ward at Wrexham Maelor Hospital.
Henry Hills, defending, said Griffiths told doctors voices were telling her to burn the house but she had been allowed to return home.
Prosecuting barrister John Philpotts said Griffiths told the children to lie on the sofa and that everything would be alright.
But the girl refused, ran out of the house and knocked on the door of neighbours William and Eilleen Bride.
Mr Bride, 66, braved thick black smoke which he could hardly see through and found Griffiths inside holding her son, the court heard.
He grabbed the child and pulled Griffiths out of the house by the scruff of her neck.
Once outside, Griffiths had to be restrained from getting back in.
Firefighters found fires had been set in four areas of the semi-detached house, causing more than £50,000 in damage.
After the hearing, Det Con Mark Griffiths from North Wales Police said: "Had it not been for the swift actions of neighbours, the events of that night could have ended tragically.
"I'd like to thank members of the public who assisted both on the night and during the course of this investigation," he said.