Pinewood marks first year in Wales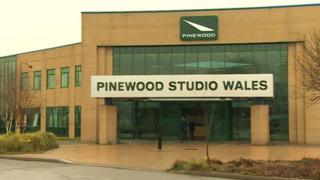 The film studios responsible for the James Bond franchise are marking a year since their plans for Cardiff were first unveiled.
Pinewood Shepperton has spent the last few months moving into the 180,000 sq ft complex at Wentloog.
First Minister Carwyn Jones will visit the studio with his government stressing the importance of creative industries to the economy.
Work on one of Pinewood's first major productions is also about to start.
The Bastard Executioner is an historical drama for the US cable channel FX.
It tells the story of a 14th Century knight turned executioner during the reign of Edward III, set against a background of Welsh rebellion.
The mini-series is written by Kurt Sutter, who created Sons Of Anarchy.
A £30m funding pot has been set up by the Welsh Government to support film and TV drama shot in Wales over the next five years.
Ministers hope it will generate £90m for the economy.
The first to benefit is Take Down, a thriller being produced at Pinewood, directed by Jim Gillespie, behind I Know What You Did Last Summer.
Pinewood, based in Buckinghamshire since the mid 1930s, is a studio name behind more than 2,000 films and 600 television productions with big names ranging from James Bond, Star Wars to the Carry On comedy series.
The studio is starting to provide a home for local businesses offering services ranging from special effects to specialist vehicle hire.
Hannah Thomas, head of creative sector development for the agency Ffilm Cymru, which supports the industry, said of Pinewood's opening on the outskirts of Cardiff: "It's hugely exciting, it's great for the industry in general.
'Futuristic'
"Anything that can build capacity and create more jobs for Welsh people and give people the opportunity to work in film and television is welcome."
She said they were in regular contact with Pinewood about talent information.
"It's a globally recognised brand, it's exciting and has access to infrastructure and facilities companies that can only strengthen the industry - it's a positive for everyone."
Film producer John Giwa-Amu of Red and Black Films - behind sci-fi thriller The Machine and Little White Lies - said: "We have a big slate of about 10 projects coming forward, of various budgets, some quite large.
"We do sci-fi so there are a lot of sets built, a lot futuristic stuff, so to have somewhere with the capacity of Pinewood and to know we can stay in Wales with the support of the wonderful crew is brilliant."
The visit comes days after it emerged that officials had turned down a request for part of the new James Bond film to be shot inside the Welsh assembly's debating chamber.