Politics does not affect 30% of teens' lives, poll shows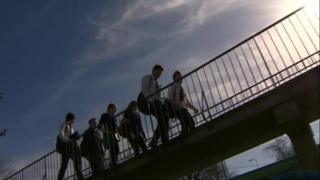 Less than a quarter of Wales' 16 and 17-year-olds think politicians have a big impact on their lives, a poll says.
The Wales Institute of Social and Economic Research, Data and Methods (WISERD) asked 500 secondary school pupils for their opinions on politics.
The survey also found nearly 90% said it mattered who ran the country after May's general election.
Wales' Electoral Reform Society called it a "wake up call" for politicians and schools.
Of the teenagers polled:
23% said politics affected their life "a lot"
47% said "a bit"
30% said "not at all"
Half of those polled had one particular issue they cared passionately about, including school being too stressful, badger culling and dairy prices for farmers.
The preliminary data, seen exclusively by BBC Wales, is part of a wider three-year study looking at young people's attitudes to living in Wales.
Dr Sioned Pearce, from WISERD, said responses from sixth formers were particularly interesting "given the current discussion around lowering the voting age to 16".
Labour, the Liberal Democrats, Plaid Cymru, the SNP and the Green Party all support the idea of offering 16 and 17-year-olds a vote in general elections, but the Tories and UKIP favour the current threshold of 18.
42% thought the voting age should be lowered to 16
49% thought it should not
8% said they did not know
A third said they would not vote in the general election, even if they could.
Dr Pearce said the responses suggest politicians could do well to take a longer-term view and try to appeal to the voters of tomorrow.
"Our results indicate that the issues that young people feel strongly about aren't the issues politicians are talking about," she said.
"Things like austerity, Europe and electoral reform didn't strike a chord with the vast majority of our respondents."
The findings are a "wake up call" to both politicians and schools, according to Stephen Brooks, Director of the Electoral Reform Society in Wales.
"The way politics is taught in schools across Wales is really, really patchy," he said.
"And that's not the fault of teachers - politics is a very difficult subject to teach and a lot of teachers don't necessarily know the political system and how parties work themselves.
"Politicians need to think seriously about how they interact with younger people. It really is their last chance to sort out the political system and engage a whole generation."