Patients in Wales being refused test for cancer gene
By Jenny Rees
BBC News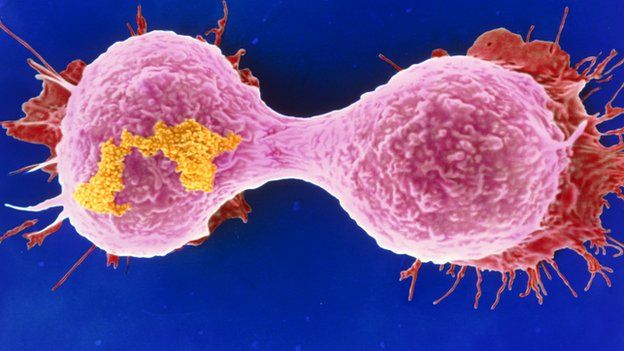 Patients are being refused a test for a gene that increases cancer risk because NHS Wales will not fund it - despite it being available in England.
Guidelines published in 2013 say anyone with a 10% risk of having one of the BRCA genes could be tested.
But the current risk trigger in Wales is still set at 20%.
It will change in April this year - but until then some patients are being told to go private - and pay £500 for genetic tests, BBC Wales has learnt.
The BRCA 1 and 2 genes increase a patient's lifetime risk of developing breast cancer by around 80%, and ovarian cancer by 20-40%.
Dr Alex Murray, a consultant clinical geneticist, said patients are increasingly well informed about the guidance, particularly as these changes were brought in shortly after the actress Angelina Jolie spoke about her BRCA1 gene.
She said: "I've worked in Wales a long time and unfortunately this is something we have experienced before.
"In England I have colleagues who can test 100 patients a month. It makes you feel very much the poor relation when you can only test 120 a year."
Lorraine Case, from Llanharan, was 33 when she was diagnosed with triple negative breast cancer in October 2012.
She was referred for genetic screening as her risk of carrying the BRCA1 gene was between 10-15%, but was told although she was eligible, she couldn't be tested at that time.
She said: "I was really taken aback. My husband and I were told we could pay to have it done privately, but we wanted to push it a bit further to see if we could get funding - not just for ourselves, but for others who were in the same situation.
"It was important because there's my mum and my sister, as well as my three children."
She and her husband wrote to the Health Minister, Mark Drakeford and campaigned for Wales to comply with the newer guidance.
She has since found out she doesn't have the gene.
Lorraine's husband Richard added: "A postcode lottery should not exist when it comes to people's health.
"If there are certain things available in England, the same should be made available to everyone in the UK."
The Welsh Health Specialised Services Committee, which is responsible for commissioning the genetic testing services in Wales, said it had fully considered the latest guidance laid out by the medicine watchdog Nice in its annual review.
It said the measures would be fully implemented from April 2015.
A spokesperson for the services committee said it had been working closely with the University Hospital of Wales in Cardiff to ensure that genetic testing services can be accessed in a "sustainable and equitable way".
They added that they also wanted to have counselling staff on hand for patients to make "informed decisions about genetic testing at a time which is challenging for both them and their families".
Related Internet Links
The BBC is not responsible for the content of external sites.