Welsh councils breached data laws 100 times in 2014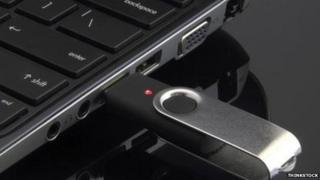 Welsh councils broke data protection laws 100 times in 2014, a fall compared with the previous year.
Breaches included a list of addresses being lost in the street, personal data sent to the wrong address and records being found by a member of the public.
The law was broken 135 times in 2013 and 60 times in 2012.
Powys recorded the highest number of breaches in 2014 with 41 while Anglesey, Bridgend, Ceredigion, Merthyr Tydfil and Neath Port Talbot had none.
BBC Wales submitted a Freedom of Information request to all 22 Welsh councils and 19 responded.
Blaenau Gwent and Caerphilly failed to respond while Swansea did not deal with the request, saying details of data protection breaches are not recorded centrally.
The Information Commissioner's Office assistant commissioner for Wales Anne Jones, said: "We will continue to support local authorities by providing advice and guidance on their legal requirements under the act.
"However, we don't rule out taking enforcement action where it becomes clear that an authority has clearly failed to look after people's information."