'Best time ever' for medical innovation in Wales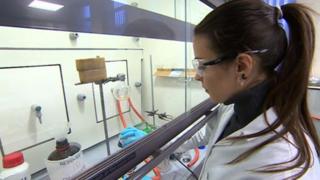 It is the "best time ever in Wales" for inventing new medicines and healthcare equipment, according to a leading industry figure.
Life sciences now employ more than 11,000 people in Wales, a rise of more than 10% in the last financial year.
As well as business growth it is hoped this will support the future NHS.
"My dream is that the next billion dollar discovery will stay in Wales," said Prof Chris McGuigan, in charge of a hub to turn research into products.
A panel of experts was brought together by the Welsh government less than three years ago to try to boost life sciences.
Wales is also the only country in the world to have a designated £100m fund to attract companies in the field to relocate here, with six investments made so far.
The starting point of any new development is research and the Life Sciences Research Network, a £15m Welsh government programme, aims to fund 100 projects in drug discovery in universities across Wales over the next five years.
That would double the current level of research.
In its first year, it has attracted more than 200 funding proposals and has funded 56.
CASE STUDY - BREAST CANCER RESEARCH CLOSE TO HOME
Tiziana Life Sciences is financing the development of a potential new treatment for late stage breast cancer, using research from Cardiff University.
Company chairman, Gabriele Cerrone, an Italian biotech investor, has both a personal and commercial interest in developing a drug.
He lost his partner Tiziana three years ago to triple negative breast cancer - in which chemotherapy, radiotherapy or surgery is the only option - and has named the company after her.
Mr Cerrone believes the research is on a long path but in a "new frontier" and the next challenge in its development is the first phase of safety trials.
"In life we don't always have the fortune of being able to make a good business deal and do something good for humanitarian purposes," he said.
"This is a unique situation as it resonates to a personal tragedy I've had. To have a great project and help contribute to a niche of an illness that killed a loved one in my life is the ultimate satisfaction."
SCIENCE AND HEALTH UNDER ONE ROOF
Prof Chris McGuigan is leading the research network and is also in charge of the new Life Sciences Hub in Cardiff. It aims:
To turn ideas into products and has 60 organisations working together under one roof.
To target different sized companies as well as lawyers, accountants, clinicians and health boards to create "a real melting pot of talent."
To attract new innovators. It has already smashed a Welsh government target to attract 500 visitors within its first year by bringing in 2,300 within six months.
Prof McGuigan said a combination of factors has meant "it is the single best time ever to be involved in the life sciences in Wales."
"During my career I've invented three new drugs that have gone into clinical trials - that's a difficult step. At their peak they were worth $3bn.
"And all of that left Wales because we didn't have the infrastructure - we didn't have a fund, we didn't have a business community ready to invest, and we didn't have a hub."
"Now thanks to the commitment of ministers and government all that's in place."
He added: "My dream is that the next billion dollar discovery will stay in Wales, will create more jobs in Wales and I confidently believe that it will."
A LONG ROAD FROM THE LAB TO PHARMACY
Drug discovery is a long, expensive, uncertain process.
The Association of British Pharmaceutical Industry estimates it takes on average 13 years and £1.1bn to develop a new medicine or treatment and the vast majority of attempts fail.
It has led some to question whether the Welsh government can justify spending so much on an industry where return on investment is far from guaranteed.
But despite the risks, Prof Marc Clement, executive chairman of Swansea University's Institute of Life Science (ILS), argues the sector could be a key driver of growth in Wales.
He says his institute has delivered five times the investment in its first 10 years in terms of the wages, taxes and jobs it generates.
One of its latest innovations is due to be released at the end of the year - a cardiac pump, aimed at helping the 660,000 people at any one time who have heart failure.