Mark Drakeford on NHS stress from smoking and drinking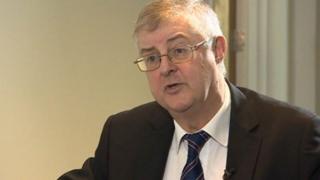 The NHS is being put under too much pressure dealing with self-inflicted conditions, the health minister has warned.
Mark Drakeford says it is having to "rescue" people from "harm that need never have happened" through too much smoking, drinking and a poor diet.
He told BBC Healthcheck Wales he would do all he could to "bear down" on smoking.
He also wants a UK government crackdown on sugar in processed food.
Mr Drakeford was speaking in an interview for BBC Wales, as part of a week looking at the NHS in Wales, and which also publishes a poll from ICM Research.
More than half questioned say the NHS should limit or refuse treatment for those who refuse to make lifestyle changes.
The minister said: "The NHS has a responsibility and it's my responsibility as minister to ensure the service is as good as we can make it, but there are responsibilities citizens and patients have too.
"If we want the NHS as a future to continue providing for us when something awful happens we have to do more to avoid the harms that are avoidable."
He said he has also written three times to the Health Secretary Jeremy Hunt in England urging him to take a mandatory approach to reduce sugar in processed food.
As part of BBC Wales' Healthcheck Wales, Mr Drakeford is questioned about the challenges facing the NHS - and its performance.
The health minister talked about changes to the ambulance service to make sure crews got to those in the most need quickly.
Mr Drakeford was asked by BBC Wales' Jamie Owen about the case of a 92-year-old Swansea woman who had to wait two and half hours for an ambulance after she fell and broke her hip in her garden.
He said such a wait was "completely unacceptable".
The health minister also defended how hospitals in Wales have dealt with winter pressures, despite unprecedented demands.
On the experience of patients in the NHS, Mr Drakeford insisted that the majority believed they had a good service and were seen within target waiting times.
He also dealt with the issue of lifestyle choices and how pressures are placed on the NHS from smoking, excessive drinking and eating and lack of exercise.
The minister said the biggest challenge facing the NHS is meeting rising demand and more complex needs while there is less money.
Mr Drakeford also said the wider picture of creating a healthier Wales also relied on social and economic factors, not just the NHS.