Higher cot death risk around smokers, report finds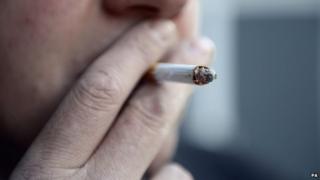 Smoking has been singled out as posing a particular risk of sudden unexplained infant death, according to a new report.
Out of 45 deaths looked at in detail, 25 infants were in smoking homes.
The Public Health Wales report found the rate of smoking among parents was "alarmingly high" and highlighted the importance of smoke-free environments.
Other risks included sleep position, co-sleeping, pre and post-natal smoking and a low birth weight.
Officials said that while there had been a drop in such deaths in recent years, more could still be done to reduce them.
'No blame'
Dr Paul Davis, author of the Sudden Unexpected Death in Infancy - A Collaborative Thematic Review 2010-2012 report, said parents should not feel blame for the deaths.
And he has suggested a national awareness campaign could help cut the death rate further, saying the last in 1991 was "phenomenally successful".
"While great strides have been made in reducing unexplained sudden infant deaths in Wales, the fact so many of the deaths are linked to known risk factors suggests many more could be prevented," said the consultant paediatrician at Cardiff and Vale University Health Board.
"In particular, the rate of smoking among parents was alarmingly high and the importance of a smoke-free environment for young babies cannot be overestimated.
"Also, the proportion of babies who were co-sleeping with a parent at the time of death, despite the presence of other risk factors, suggest this is an important area for future health promotion.
"It's important parents do not feel they're being blamed for their infant's death.
"That is not the case and by definition we do not know the cause of these deaths. However, there are avoidable risks and we should all work together to prevent as many of these tragedies as possible."