Cardiff among fastest growing cities - City Outlook 2015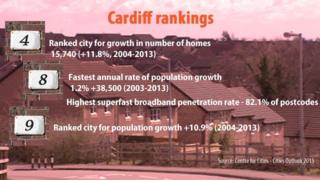 Cardiff is among the fastest growing cities in the UK while Swansea and Newport are struggling, according to a new study.
The City Outlook 2015 report shows that over the last decade for every 12 jobs created in the south of England only one was created in the rest of the UK.
Cardiff is in the top 10 of 64 cities for population growth and new homes.
But weekly earnings in Swansea are one of the lowest and Newport is one of the worst for private sector jobs growth.
Cardiff is one of only two cities outside the south of England to feature in the top 10 for population growth
Swansea is ranked 56 for weekly earnings, which were an average of £427 per week last year.
The city also has one of the lowest employment rates (65.8%) but in the last year has seen one of the biggest levels of growth in the private sector (4.9%).
This comes from a low base in a city dominated by big public sector employers like the DVLA.
A Swansea council spokesman said: "We recognise the challenges facing Swansea and the wider city region, which is why we've produced a Swansea Bay City Region strategy to help address those issues.
"As part of this strategy, the regeneration of the city centre will provide a range of opportunities to create new business growth and new private sector jobs, and boost earnings with a greater proportion of business start-up opportunities in the city for talented young graduates from our universities."
He said other investments included the new Swansea University campus and the regeneration of the former tinplate works at Felindre into a business park that will generate hundreds of jobs.
Newport has one of the highest rates of people claiming Jobs Seekers Allowance (JSA) and has seen the number of people working in the private sector fall by 11.8% while in London it has risen by 18.4%
The report by London-based research charity Centre for Cities highlights the growing gap between the economy of the south of England and the rest of the UK.
It looked at how they have performed in terms of jobs, earnings, population, homes and business start-ups.
It says that the UK economy is 2.7% larger than before the recession and there are 1.3m extra people working but wages are still 12.6% lower than 2008 in real terms.