Emergency services prepare for New Year's Eve revellers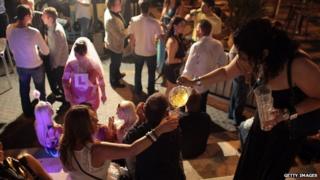 Injured New Year's Eve revellers will be treated in temporary triage centres in Welsh towns and cities to relieve the strain on emergency services.
There will be services in Cardiff, Swansea, Wrexham and Rhyl.
Party-goers who have minor injuries or are too drunk will be treated at the scene to stop unnecessary 999 calls.
Gordon Roberts from the Welsh Ambulance Service said this type of call could divert ambulances from people "with a life-threatening injury or illness".
It is hoped the alcohol treatment centre (ATC) in Cardiff will also ease the pressure on the accident and emergency department at the University Hospital of Wales.
Wayne Parsons, senior nurse for Cardiff and Vale health board's unscheduled care, said: "We saw 26 people at the centre in town last New Year's Eve who received treatment for over indulgence.
"We'd rather not see anyone get themselves in a state and end up at the ATC."