New Year Honours: Designer Mary Quant among Welsh recipients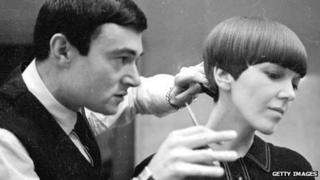 Designer Mary Quant, who is widely credited with popularising the mini skirt, has been made a Dame in the Queen's New Year Honours.
Ms Quant, who has Welsh parents and considers herself Welsh, was recognised for services to British fashion.
Paul Silk, chairman of the Silk Commission, was made Knight Commander (KCB) of the Order of the Bath.
Meanwhile, campaigners, volunteers and ordinary workers have also been honoured.
Dame Mary Quant said: "I am absolutely delighted to have been awarded this terrific honour. It is extremely gratifying that my work in the fashion industry has been recognised and acknowledged in such a significant way."
Sir Paul was given his honour for services "to the parliaments of and devolution in the UK".
He said: "I suppose it's a bit of a cliché to say it, but I really was rather surprised when it arrived.
"Of course, nothing which I've done ever in the whole of my life has been without the help and assistance of many other people.
"It's been wonderful to be honoured in this way."
Shelia Elizabeth Davies, 80, British Empire Medal (BEM), of Barmouth, Gwynedd.
Sheila Davies receives a BEM at the end of a year in which she turned 80 and marked 40 years working as a lollipop lady at Ysgol Y Traeth in Barmouth.
She applied for the job because she likes children and decades later she said it was a decision that led to a great love for the school, its staff and children.
"The children to me are great as they don't see me as someone who grows old each year," she said.
"I'm on equal level with them and it's such a lovely thing. They treat me as one of themselves and I think it is absolutely lovely."
She said she decided to accept the honour after receiving a letter saying she had been nominated for it.
"I thought, 'OK I will fill the letter in and see if the Queen would like to honour me so that I can bring something to Ysgol Y Traeth for giving me such a happy life'."
Rosaleen Moriarty-Simmonds, 54, of Cardiff, OBE for services to the equality and rights of disabled people
When Rosaleen Moriarty-Simmonds was a child in the 1960s, disabled people did not have the right to an education.
But that did not stop her going on to be the first disabled person to gain a degree at Cardiff University and pursue a successful career as a businesswoman, artist, writer, TV and radio broadcaster and campaigner for equal rights for disabled people.
She said she was shocked to be appointed OBE as she is just "an ordinary person".
But she said she was pleased her work had been recognised and hopes it will help open more doors in her campaigning work.
"When I was 10, the law changed which meant that disabled people then had a right to education. That was a huge step," said Ms Moriarty-Simmonds, who was born without limbs after her mother was given the drug Thalidomide to take during her pregnancy.
"Since then, there's been more accessible buildings and better attitudes and there's been legislation to back what the average person on the street doesn't give much thought to. We have made great changes.
"But there's still a long way to go for equality and I hope this [honour] will help my fight for the rights of disabled people."
Anne Owen, 65, from Flintshire, MBE for services to animal health and welfare in north Wales
Anne Owen founded the North Clwyd Animal Rescue Centre in 1978 after she took in a stray dog.
Since then it has grown to become the largest single animal charity in north Wales, rescuing and re-homing over 1,800 unwanted cats and dogs in 2014.
Mrs Owen is also passionate about educating people about caring for pets and she regularly takes her mobile road show around schools and communities.
She said she was "really shocked" to hear about her honour.
"It's not something I really think about, you just get on with life," she said.
"It's nice that your work is recognised. It's not just me, it's my family and friends too."
Judith Ann Walters, 67, of Ceredigion, MBE for services to young people.
Judith Walters has been part of the girl guiding movement for 42 years. She was a brownie and a guide as she grew up in Cambridgeshire - but it was only after she married a Welshman after university and moved to Lampeter that she became a champion of guiding.
She set up a guide unit in Lampeter with a friend after she discovered the rural community did not have one and since then she has had numerous roles within the Girlguiding UK, including district commissioner and Ceredigion County Commissioner.
Now an archivist, mentor and international advisor, she said she could not believe she had been honoured with an MBE.
She said she had seen guiding change over the last 42 years but she said it still had a place in society.
"It's a girl's-only place, so girls can feel free to do things they might not feel free to do in a mixed society," she said.
"I like to think a lot of the girls I have been involved with have found things [from guiding] that have helped them in their life."
Steve Davies, of Swansea, MBE for services to maritime safety
A lifeboat rescue volunteer of almost 30 years has been given an MBE for his contribution to maritime safety.
Steve Davies, of Kingsbridge, Swansea, has held many roles with Horton and Port Eynon RNLI including crew member, helmsman, training co-ordinator and lifeboat mechanic.
He is well known in the community for giving talks to educate people about the dangers of the sea.
RNLI chief executive Paul Rossier said he had "undoubtedly saved many lives".
Jenny Broughton, 80, of Cardiff, MBE for services to sexual equality and families
Jenny Broughton was a founder member of Families and Friends of Lesbians and Gays (Fflag), a voluntary organisation which runs a helpline for relatives and friends of gay people and campaigns for equality.
She said: "I'm very proud because I do feel that it is an honour not just for me but for Fflag, for the organisation and the work which parents all over the country have done for 21 years and continue to do."
A former actress and librarian, Mrs Broughton's daughter came out as a lesbian when she was 17.
At that time, she was living in Exeter, Devon, and set up the area's first local parental support group for families of lesbian, gay and bisexual people.
Fflag was founded in 1993 and was set up to help families support one another.
"There were parents who didn't know where to turn and didn't understand the situation and families that were being driven apart by this," she said.
Mrs Broughton also campaigned against Section 28, which banned the promotion of homosexuality in schools, and for the equalisation of the age of consent.
Valerie Margaret Allen, 72, of Cardiff, BEM for voluntary service to rider and equine safety
Since the early 1980s, Valerie Allen has trained young riders for the British Horse Society and Pony Club riding and road safety test.
More than 500 riders have been guided by her knowledge and experience, and in 2011, she was highly commended for her voluntary safety work with an award from the South Wales Police Authority.
A great experience as a member of Pentyrch Pony Club in the 1950s prompted Mrs Allen to want to give something back, so she started her own club.
Mrs Allen said: "It's absolutely brilliant, I never expected to receive this and I was just overwhelmed with excitement, I'm really pleased. I've really enjoyed it and it's been a wonderful experience.
"I think all riders should be capable of taking riding and road safety tests for their own sake and the ponies or horses."