What do the party leaders in Wales want in their Christmas stockings?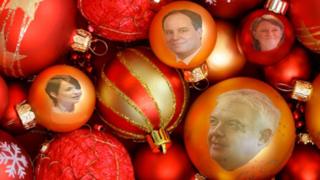 Party leaders across Wales have revealed what they hope to find in their Christmas stockings this year.
Carwyn Jones wants a Labour general election victory, while Conservative leader Andrew RT Davies wants an all-Wales cancer treatment fund.
Plaid Cymru leader Leanne Wood hopes to see an anti-austerity alliance in power after May's UK vote.
While Kirsty Williams of the Welsh Liberal Democrats hopes her 'More Nurses' bill will become law.
Looking ahead to next year's general election, Mr Jones said: "The Tories have been a disaster for Wales.
"We need a government that works for the many, not the few."
'Life and death'
How Wales is viewed is also a pressing issue for the first minister.
"Scotland dominated the news bulletins in 2014, for very obvious reasons," he said.
"Our challenge is to show that you shouldn't need a life and death debate on the future of the UK for devolved politics to be interesting."
When it came to the health service, the first minister said he wanted the political attacks on the NHS in Wales to come to an end.
"What we saw at times this year from the Tories, and their backers in sections of the London media, was the use of the Welsh NHS for cheap political point-scoring."
Andrew RT Davies hopes to find more economic stocking fillers this year.
The Welsh Conservative leader said one of his main Christmas wishes was to see the scrapping of business rates for all small businesses in Wales.
He said: "If Labour scrapped these costs for all small businesses with a rateable value of up to £12,000, and tapered them to £15,000, all small businesses would effectively be taken out of business rates altogether."
He also wanted a commitment to get rid of stamp duty on all properties valued up to £250,000, and a strategy to grow Cardiff Airport and sell it off.
"Labour has spent well over £70m nationalising Cardiff Airport. I want to see taxpayers get a return on their buck," he added.
Plaid Cymru leader Leanne Wood hopes to see "cross-party agreement on the way forward for devolution in this Parliament".
She said: "Wales deserves nothing less than parity with Scotland.
"There is a majority of people in favour of strengthening the Assembly's powers, so it would be disappointing if the brakes are put on this for political reasons".
'Frozen out'
Ms Wood also hoped to see more inclusion of her party in UK television political debates ahead of the 2015 election.
"Plaid Cymru is being frozen out (of debates) along with the Green Party and the SNP. This is unjust."
Looking at the economy, Welsh Liberal Democrats leader Kirsty Williams wants to see the economy in Wales continue its strong recovery.
She said: "When the Liberal Democrats entered government, the UK economy was on its knees.
"Now our economy is one of the fastest growing in the western world."
Her final Christmas wish was to see the full implementation of the Silk Commission's second report.
"We need decision-making brought closer to the people, with the National Assembly being given the powers it needs to build a stronger economy and a fairer society."