Police cuts means 'less crime prevention' expert says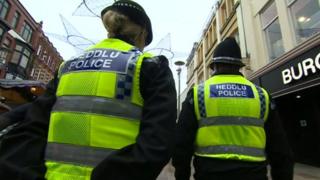 Police budget cuts could lead to fewer crimes being prevented, a policing expert said.
Cardiff University's Prof Martin Innes said if resources are reduced there will be more "reactive" policing.
His comments come after Gwent Police commissioner Ian Johnston said brutal cuts had reached dangerous levels.
Despite a 4.9% funding cut, the Home Office said forces in England and Wales would still have the required resources.
"The police always cope, they're an emergency service and they always cope," Mr Innes, a professor in police science, said.
'Very concerned'
"Where this does come into play is where you start to think about the prevention of crime rather than just responding to crime.
"So if the resource gets smaller and the capacity gets smaller then the ability to prevent things happening in the first place - that gets cut back - then you'll probably see more reactive policing rather than preventing crime in the first place."
Mr Johnston said the Gwent force had already lost 223 officers and 169 other staff over the last four years.
He said since 2010/11, the force had seen a real-terms cash reduction in central government funding of 30%.
"Whilst I understand the need for cuts during times of austerity, I am very concerned about the rationale behind continuously reducing the budget of frontline policing," he said.