Gwent Police commissioner warns on 'brutal' cuts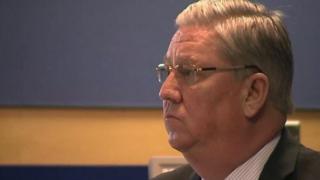 Brutal budget cuts are stretching policing to dangerous levels, the Gwent police and crime commissioner has said.
Ian Johnston said as austerity measures bite further, the force would need to concentrate on priority areas.
The Home Office announced a 4.9% cut in funding for forces in England and Wales but said they would still have the resources they need for their work.
Dyfed-Powys commissioner Christopher Salmon said the impact would be limited in his area due to "prudent planning".
Mr Johnston said the Gwent force had already lost 223 officers and 169 other staff over the last four years.
He said since 2010/11, the force had seen a real-terms cash reduction in central government funding of 30%.
"Whilst I understand the need for cuts during times of austerity, I am very concerned about the rationale behind continuously reducing the budget of frontline policing," he said.
'Price on safety'
"These on-going cuts are not sustainable and will only succeed in further stretching our already diminishing resources to dangerous levels in future.
"You just can't put a price on public safety."
Mr Johnston said the "brutal" cuts were bound to have an impact, including on all his priority areas and he said the public and politicians did not appreciate how serious the situation was.
"Rural areas such as Gwent are best served by officers on the ground. I think people need to realise that as austerity measures bite even further, we will need to concentrate policing into priority areas first," he said.
Mr Johnston said ways to streamline the force were being reviewed but the proposed cuts worse than expected.
The budget reduction comes less than a month after a critical HMIC report, which called for the force to prevent more crime and get better value for money.
Gwent managed to reverse a trend in other force areas by reopening seven police stations in April, with a plea for the public to make effective use of them before the initiative is reviewed next spring.
Frontline protected
Policing minister Mike Penning outlined the provisional settlement for 43 forces on Wednesday but said funding for national policing issues, such as counter-terrorism, would be maintained.
He said forces have made cuts while protecting the frontline.
But Dyfed-Powys commissioner Christopher Salmon said he expected a 5.1% cut from £53.1m to £50.3m.
"The impact on local services in Dyfed-Powys will be limited; we're well aware of economic trends and that's reflected in our prudent planning.
"Thanks to new IT, the people of Dyfed-Powys can look forward to around 100,000 extra hours of bobbies on the beat next year."
'Uncomfortable zone'
North Wales police commissioner Winston Roddick said the budget was not "comfortable" but added the situation with Gwent Police was different to his.
"We're not in any danger, in any sense, even though the cutbacks are substantial," he said.
"We should be able to achieve a comfortable level of service, not withstanding the cuts. That doesn't mean we will not be cutting back on staff."
South Wales Police's commissioner Alun Michael said: "In south Wales we are succeeding in doing more with less and in working with communities and with partners in local government and health to cut crime and anti-social behaviour.
"But the home secretary is in cloud cuckoo land when she claims that cuts aren't hurting and that severe future cuts will do no harm."