2014 review: The changing face of business in Wales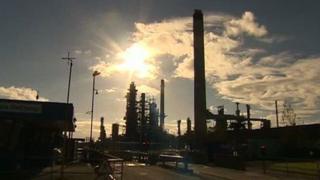 The future of Murco's oil refinery in Milford Haven was to dominate business news throughout the year.
The loss-making site had been up for sale for years. Hopes that it had found a buyer to secure its future were raised and dashed not once but twice.
The second group of potential new owners, the Klesch group, had even got as far as erecting a marquee for a party to celebrate the deal.
The sight of the marquee being taken down was a sad reminder of how close Murco came to being saved.
STEEL'S UPS AND DOWNS
Another traditional industry was under pressure too with the chief executive of Tata Steel Europe warning the company faced "a threat" from the high energy costs in the UK in January.
Six months later it made 400 people redundant due to operating costs.
Steelmakers are affected by the downturn in the construction industry, which has been hit very hard by the economic crisis and the lack of investment.
Macob's collapse in March and the threat to 330 jobs at Mabey Bridge in December showed that some construction companies are still feeling the after-effects of the downturn, even though the future looks a lot brighter.
But it wasn't all bad news.
The steel business returned to the old Rowecord site in Newport in March and 220 jobs were created in Merthyr by Tenneco-Walker showing signs of wider economic confidence as sales in the car industry grew.
BUILDING, INVESTMENT AND DEALS
The house construction industry received a boost through the much-delayed Help to Buy Wales scheme finally coming into force in January, and later in the year by general growing confidence that got the market moving again.
Red tape and the planning process were blamed when figures showed that Wales was the only part of the UK to see a reduction in newly registered homes.
Sir Howard Stringer told BBC's Wales at Work radio programme that changes in circumstances in recent years meant that it was now more attractive to bring manufacturing back from Asia and Wales was in a good position to capitalise on that.
The push to bring more financial and professional services to Wales showed signs of success with Alert Logic opening its new European HQ in Cardiff and Deloitte' creating 700 jobs.
In June there were further signs of confidence with business investment in the UK reaching its highest level since the economic crisis in 2008.
Investment in Wales from abroad reached its highest level for 25 years.
The end of the year saw the UK Investment Summit in Newport that brought jobs announcements and coincided with the news that Welsh businesses had invested an extra £100 million in research and development in 2013 - a 37% increase.
The Nato conference in Newport saw the Welsh aerospace industry, including Airbus and General Dynamics, showcase its work.
A bumper deal was announced for General Dynamics with the UK government investing £3.5 billion in armoured vehicles.
When Sir Terry Matthews was appointed to take the helm of the Swansea Bay City Region, he said he wanted to build on the success of the Nato summit by bringing investment to Wales.
Another self-made businessperson also brought investment to Wales when she sold the other half of her Gocompare.com site for £95 million securing jobs at its Newport headquarters.
Founder and chief executive, Hayley Parsons, told BBC Wales of her mixture of feelings as she walked away from the company she started from nothing.
IMPROVING SKILLS
Lots of businesses will tell you that having a skilled workforce is of paramount importance to their success.
Many report problems with the most basic skills including communication and numeracy.
In January, the Welsh government launched its 10-year strategy for skills and a month later the EU commissioner for employment told BBC Wales that the UK's schooling and training performance wasn't strong enough for a competitive economy.
The former UK trade minister Lord Digby Jones added his voice to the skills debate by urging Wales to focus on creating a more able workforce rather than on constitutional change.
TRANSPORT
It's been a major year in transport, which is another concern for businesspeople and workers alike and a vital element in growing the economy.
In March, the BBC exclusively revealed that Cardiff Airport had seen a 9% increase in passengers, over the period of Welsh government ownership.
However, the sudden and unexpected departure of its chief executive Jon Horne a few months later suggested the airport may not yet have fully left its "troubled" status behind for good.
July saw the prospect of space travel from Llanbedr raised as a real possibility.
Back on earth, the Economy Minister Edwina Hart said the government would go ahead with the M4 relief road. Many in business cheered, though it has plenty of critics who will ensure the case against will continue to be aired.
The Metro system for south Wales is another big transport project with widespread support but with a big price tag to match.