Normandy veterans to disband at final meeting in Rhyl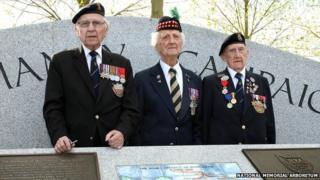 A war veterans' group is calling it a day - with its youngest member now aged 87.
The north Wales coast branch of the Normandy Veterans Association holds its final Christmas get together on Thursday.
The national Normandy Veteran Association disbanded after this year's events marking 70 years since D-Day.
Member Brian McManus said: "It's been 70 years. We've got to close some time."
He said the decision to disband was taken as branch numbers dwindled to 15 from 86 over the years.
The 1944 landings - involving 156,000 troops - were the first stage of the invasion of Nazi-occupied Europe during World War Two.
Despite their age with the oldest member aged 93, veterans from the north Wales coast branch made the trip to Normandy in June for the commemorations.
"Some if us will continue to go to Normandy if we can manage it," said Mr McManus.
The group met at Rhyl Golf Club in Denbighshire for the final time on Thursday afternoon, when the Last Post will be played to signal the official end of the association.