2014 review: The highs and lows in arts in Wales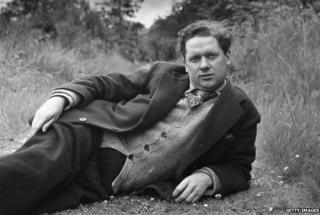 From celebrations of Wales's most famous poet, to crises at some of our national arts institutions, 2014 has been a year of triumphant highs and frustrating lows for the cultural sector.
Dylan Thomas centenary
Whether you like him or not, it's been impossible to avoid Swansea's most famous son during his centenary year.
As well as new productions of Under Milk Wood on stage and screen, there were festivals in Wales and around the world, while every word Dylan Thomas wrote was read aloud in a 36-hour birthday Dylathon at Swansea's Grand Theatre.
His granddaughter, Hannah Ellis, oversaw many of the official events, while the campaign for a more permanent celebration means Dylan Day will now be marked each year on 14 May, the date Under Milk Wood was first read on stage in 1953.
Dance company crisis
In April a leaked report revealed a "crisis" within the management of National Dance Company Wales.
After the departure of its founding artistic directors, the majority of its board members resigned, and called for its chairman Andrew Davies to leave as well.
He rejected the suggestion, and has overseen the appointment of a replacement leadership team.
Pontio delayed
Bangor University was due to have a new arts centre by September 2014, but major delays to the construction of Pontio led to the postponement and eventual cancellation of its gala opening.
It emerged that the management had been warned earlier this year that there was a high risk the project would not be ready on time.
Its budget has also increased from £37m to £49m, with the majority of that coming from public funds.
The centre is now due to open sometime in 2015.
Award winners
Critical success
There was praise from the critics for some of the productions staged in Wales this year.
The site-specific Mametz, by National Theatre Wales, was "fresh and visceral", according to The Guardian, while Welsh National Opera staged an "enthralling" production of Moses und Aron in the opinion of The Daily Telegraph.
Owen Teale's performance as First Voice in a new production of Under Milk Wood by Clwyd Theatr Cymru earned a five star review from The Guardian.
Farewell Dannie
One of Wales' most revered writers, the poet and author Dannie Abse, died aged 91 in September.
During an award-winning career as a writer he published poems, novels and autobiographies, while also practising as a doctor.
He was regarded as one of Wales' finest modern writers and was a popular choice in homes and schools.
Media matters
In February BBC Wales turned 50, while the soap opera Pobol y Cwm celebrated its 40th birthday in October. Both S4C and the BBC announced separate plans to relocate their headquarters.
From 2018 BBC Wales will be based at a new development in the centre of Cardiff, while S4C plans to move its main centre of operations from Cardiff to Carmarthen by the same date.
Among the challenges for the broadcasters during 2014 were the BBC director general Tony Hall's observation that English language programming in Wales had been "eroded".
Meanwhile S4C chief executive Ian Jones warned that uncertainty over the channel's future funding was akin to a "black cloud" hanging over the channel.