North Wales transport plan highlights road pinch points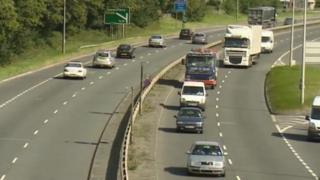 Action is needed at road "pinch points" to improve the economic prosperity of north Wales, says a report.
The North Wales Draft Transport Plan also wants better traffic management around towns like Rhyl and Llandudno.
The report for local authorities in the region outlines priorities for the next five years.
It wants to ease congestion around the A494/A55 at Deeside and proposes a new A55 link road at the port at Holyhead.
Commissioned by the joint-council 'Taith' group, chair David Smith said local authorities have been working together to agree their transport priorities, before submitting plans for Welsh government funding.
Separate transport plans have been drawn up for other regions, including plans for mid Wales and the south east Valleys.
Consultations on all the draft plans are open to the public until 5 January.
They complement the government's National Transport Plan, which was published earlier in December and identified trunk road and rail projects for the next 30 years.
Both the national and regional documents highlight a need for improving rail links at the sprawling industrial estates at Wrexham and Deeside.
Both reports identify areas for improvements on roads to ease "congestion and capacity issues" such as along the A494/A55/A548 known as the Deeside Corridor.
The North Wales Draft Transport Plan also says improving transport links between the region's three main enterprise zones - Anglesey, Snowdonia and Deeside - are "crucial for the region's economy".
"An efficient modern transport system can contribute towards creating better jobs and skills by increasing access to jobs and education," says the report.