'Dylan Day' announced to celebrate achievements of Swansea poet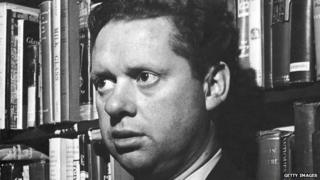 An annual day dedicated to Dylan Thomas has been announced to mark the end of a year-long festival.
Dylan Day will be held each year on 14 May, the date Under Milk Wood was first read on stage at The Poetry Centre in New York in 1953.
Starting in 2015, Dylan Day aims to celebrate and raise the profile of Thomas' work in Wales and abroad.
The event will be part of a three-year funding package by the Welsh Government.
'Amazing legacy'
The announcement was made by the poet's granddaughter, Hannah Ellis, on Thursday.
She said: 'It is so important that we make the most of the amazing legacy the Dylan Thomas 100 festival has offered and continue to celebrate the achievements of Dylan Thomas.
"A national day devoted to my grandfather will also be a way to bring attention to literature and arts in Wales and the places that inspired him so much."