Dylan Thomas' notebook bought by Swansea Uni for £104k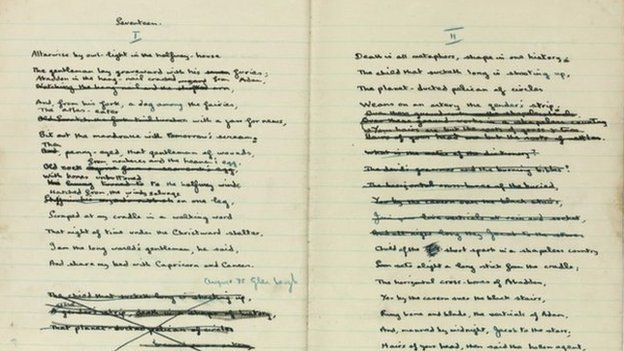 A notebook which shows the early work of poet Dylan Thomas has been bought by Swansea University for £104,500.
The book, described as the most exciting manuscript discovery since the poet's death in 1953, was sold at Sotheby's in London on Tuesday.
It is thought Thomas left it at the house of his mother-in-law, Yvonne Macnamara, during the 1930s.
She is believed to have told a member of her household to burn it but it was kept.
The notebook, which lay forgotten in a drawer for decades before being rediscovered, is one of five notebooks used by Dylan Thomas - the other four are in the State University of New York at Buffalo.
Prof John Goodby, international Dylan Thomas expert and editor of the centenary edition of his poems, described it as "the holy grail of Thomas scholars".
Jeff Towns, chairman of the Dylan Thomas Society and owner of Dylan's Bookstore, who bid at the auction on behalf of the university, said: "I cannot conceive of anything more fitting and purposeful to bring what has been a vibrant year-long celebration of a great writer's centenary to a close.
"To bring this lost notebook - so telling and poignant - back to Swansea; to keep it in Wales for future generations is a huge achievement and I am overwhelmed to have been a small part of it."
The notebook will be kept in the university's Richard Burton Archives, which already house Burton's diaries and other papers bequeathed by his widow Sally.
Other important items including the papers of academic and writer Raymond Williams, and the South Wales Coalfield Collection are also kept there.
Professor Iwan Davies, pro-vice chancellor of Swansea University, said it was fitting the notebook stayed in Wales and was accessible to scholars.