Pylon plan for Carmarthenshire on show and Oswestry protest meeting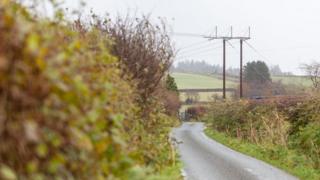 The last in a series of events are being held for people to have a say on proposed power line routes for a wind farm in Carmarthenshire.
The 28.6km (17.8 mile) link for Brechfa Forest West Wind Farm could see 3.4km (2.1 miles) of cables underground.
Meanwhile, opponents to a link-up between proposed wind farms and the national grid in Powys and Shropshire are meeting to make their views known.
A protest meeting is being held at Oswestry in Shropshire.
It is being coordinated by bosses at the British Ironwork Centre who say the steel sculpture museum is in the path of the planned route known as the Mid Wales Connection.
Western Power Distribution's plans for the Brechfa Forest Connection will be on display at six exhibitions around Carmarthenshire, starting from Tuesday.
It wants to connect a Carmarthenshire wind farm to the electricity network using wooden poles, prompting concerns from some people.