Swansea RFC's Paul John hit girlfriend 'unintentionally'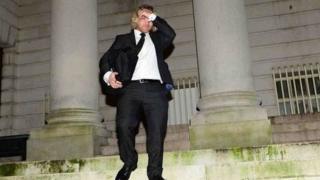 Swansea RFC captain Paul John unintentionally hit his girlfriend in the face as he tried to defend himself when she kicked him in the groin twice, Cardiff Crown Court has heard.
Mr John, 26, said he had no intention of hurting Amy John as he tried to fend off her kicks with his hand and arms.
The court heard the pair rowed after Ms John found the defendant flirting on Facebook with other women.
Mr John, of Porthcawl, south Wales, denies a charge of unlawful wounding.
The court has heard the attack happened at Mr John's parents home in Porthcawl as the pair were getting ready for bed after a night's drinking and socialising.
Psychology graduate Ms John told the court the Swansea RFC hooker blocked her path at the front door of the house.
She has said she kicked out at his groin but "did not make contact".
Giving evidence in his defence, Mr John said he did not punch Ms John - who has the same surname but is not related - in the face.
He said: "She grabbed her bag and keys and I followed her downstairs in my boxer shorts.
"I was trying to calm her down because I was concerned about where she was going. I went to reach out for her keys and she kicked out at me.
"I was standing beside her and she kicked me twice in the testicles. As she kicked me my hand and arms went up - I wasn't intentionally seeking to strike her and [had] no intention of hurting her.
"I apologised and said I was sorry."
Plastic surgeon
The court has heard Ms John, who volunteers as an appropriate adult with vulnerable suspects being interviewed by police, initially told officers the incident had been an accident and Mr John was told no action would be taken against him.
Ms John was given stitches and has had to see a plastic surgeon following the incident.
The case continues.