Two remanded over Cardiff jihadi's passport to Syria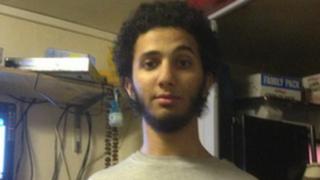 Two men have been remanded in custody charged with helping a 17-year-old leave the UK for the conflict in Syria.
Kristen Arne Brekke, also known as Kaleem, 18, from Grangetown, Cardiff, and Forhad Rahman, 20, from Cirencester, Gloucestershire, appeared at Westminster Magistrates' Court.
They are accused of assisting Aseel Muthana, from Cardiff, in the preparation of an act of terrorism.
Muthana left the UK in February 2014 using a recently obtained passport.
It was a replacement for his original one.
Mr Brekke appeared in court on Wednesday in a suit and confirmed his name and date of birth.
The court heard that he allegedly assisted Aseel Muthana between 24 December last year and 23 February 2014.
In a case that is being dealt with separately but is linked to the same events, a second man from Gloucestershire later appeared in court, also accused of helping Aseel Muthana between the same dates.
Forhad Rahman, of Cirencester, is accused of the same offence of preparing for acts of terrorism by assisting the teenager's intentions.
He is further charged with two counts of possessing material on his phone containing information likely to be useful to a person committing or preparing an act of terrorism.
District Judge Emma Arbuthnot remanded both men in custody to appear next at the Old Bailey on 19 December.