E-cigarette use by children concerns fuelled by research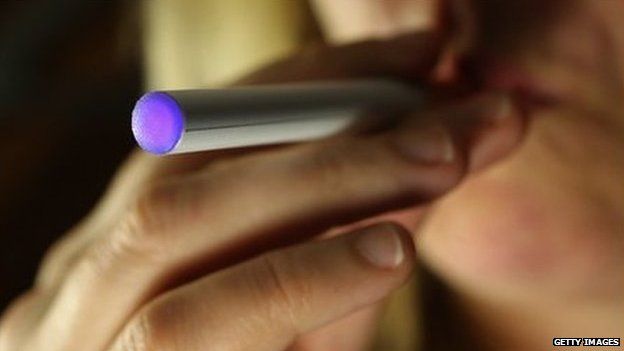 Three times as many children have tried e-cigarettes as have smoked tobacco, according to official figures.
It has reinforced concerns that using the devices could become a "gateway" to smoking cigarettes.
The study found 6% of 10 to 11-year-olds in Wales said they had used e-cigarettes, compared to 2% who had smoked tobacco.
Children who tried e-cigarettes were seven times more likely to say they might start smoking within two years.
They were also more likely to use e-cigarettes if their parents were smokers.
But the study found evidence to suggest that e-cigarette use may lead children to smoke tobacco.
E-cigarette use by 10 to 11-year-olds
Overall, 6% of children say they have ever used an e-cigarette, compared to 2% who have ever smoked a tobacco cigarette
8% of children whose parents smoke had tried an e-cigarette, compared to 3% of children of non-smokers
14% of non-smoking children who had tried an e-cigarette said they might start smoking in the next two years, compared to 2% of children who had not used such a device.
Health Minister Mark Drakeford said: "These latest findings shine further light on the potential impact of e-cigarettes on our children and young people.
"I am concerned the use of e-cigarettes may act as a gateway to and re-normalise smoking, especially for a generation who have grown up in a largely smoke-free society."
The study also found that fewer children were being exposed to second-hand smoke in cars and their homes.
Exposure to smoke for 10 to 11-year-olds
9% of children said in 2014 that smoking was allowed in their family vehicle, down from 18% in 2008
For smoking families, it was down from 35% to 20%
4% of children said they had been exposed to smoke in a car the previous day, down from 7% in 2008
The proportion of children with at least one smoking parent fell from 33% to 22%
Related Internet Links
The BBC is not responsible for the content of external sites.