Welsh steel maker Celsa wants financial support now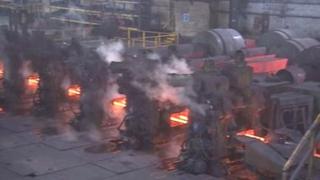 Firms using high levels of energy need help now from the chancellor in his Autumn Statement, a Welsh steel maker has said.
Cardiff manufacturer Celsa wants George Osborne to bring forward financial aid he has pledged for 2016.
In his budget this year, the chancellor recognised the problems faced by companies that use a lot of energy.
Energy costs here are higher than in many other European countries, particularly France and Germany.
Higher levels of taxes and levies are blamed in part for these costs, which can be around 50% more than other nations.
George Osborne announced a series of measures in March, including a £1bn scheme for heavy energy users to get relief from green taxes.
However, this is not due to come into force until April 2016.
'Negative impact'
Celsa, which employs over a thousand people in Wales, is calling on the chancellor to bring forward the start date of the financial support when he delivers his Autumn Statement on Wednesday.
The general manager of Celsa Steel UK, Luis Sanz, said he hoped the government would acknowledge the "negative impact this unlevel playing field in energy prices is having on the competitiveness of the steel industry".
He added: "We expect the government to announce an immediate implementation of the support package to the energy intensive industry following what other countries have already been doing for a significant period of time."
The scheme was widely welcomed by industries that had lobbied for it but supporters of renewable energy like wind said the move was damaging.