Business rate reform tops Autumn Statement wish list in Wales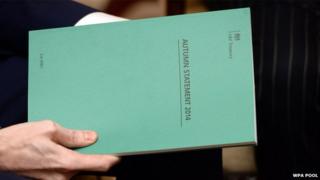 The chancellor's room for manoeuvre may be limited due to the continuing squeeze on the public finances.
But there is an election next year, which could make it more likely that we will see some giveaways.
There is already been the much trumpeted extra funding for health, though it is up to the Welsh government how that money will be spent.
Businesses large and small also want the chancellor to take action that will help boost economic growth.
Ultimately, if George Osborne gets the support for companies right, these firms will see their business grow, they will pay more taxes and employ more workers who will also pay taxes.
That means more money for public services like hospitals and schools or to reduce the deficit.
So what do businesses in Wales want from the chancellor to help them play their part in delivering growth?
Business rates are a key issue for firms.
Rate reform
The UK government has been sending strong signals to expect changes on this which will be targeted to help smaller firms.
The chancellor has previously introduced rate relief, and that may be extended.
Chris Sutton from the property company, JLL, who also chairs the business organisation, CBI Wales, thinks that is likely.
That is also what the Federation of Small Businesses (FSB) wants to see ahead of full scale reform of the rates system when it is devolved to Wales in April 2015.
Small business owner Robyn Coles designs and manufacturers hats at her Cardiff shop and she said rates can be almost as high as rents, a situation she described as "crippling".
She would like the chancellor to simplify the tax system, including dealing with Her Majesty's Revenue and Customs (HMRC) too.
Energy and apprenticeships
JLL also expressed concern about the impact of high energy prices on the Welsh economy.
It is a particular issue for the steel manufacturer Celsa, which has called for the chancellor to bring forward his promise of financial help in 2016 for heavy users of energy like the steel industry.
UES is an energy consultancy firm in Caerphilly which employs 23 people.
Managing director Andrew Diplock said he would like to see measures that would help with costs for all businesses as well as the energy intensive ones like Celsa.
He wanted extra help with apprenticeships and graduate placements, and Mr Sutton also thought more funding for apprentices might feature in the Autumn Statement.
Next week sees a conference on aimed at students wishing to enter a career in finance.
Five Wales-based financial services employers and the Welsh government have created a scheme to help recruit and train a new generation of workers.
Principality Building Society, with almost 1,300 employees, is one of them.
Robust growth
Steve Hughes, group finance director at Principality, said: "The economic outlook remains cautiously optimistic; inflation is lower than the Bank of England's forecasts, growth is still robust compared with neighbouring economies and there is encouragement in employment levels."
He hoped that the chancellor would use his Autumn Statement to help savers who have been hit by low interest rates, and to boost the housing market, in particular through encouraging the building of more homes.
The housing market was also the focus for Gocompare.com, one of the three major price comparison sites based in Wales.
Its head of finance Andrew Brown said: "When the housing market is buoyant the rest of the economy follows suit."
He hoped for stamp duty to be reformed especially to help first time buyers.