Pontardawe home turned into Christmas wonderland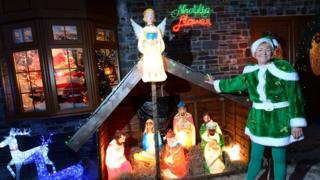 A grandmother has turned her home into a winter wonderland for Christmas and is charging people £5 to visit.
Dubbed Mrs Christmas, Betty Ann Jones, 72, has installed 12,000 twinkling fairy lights, a mountain of fake snow and 5,000 toys and tiny ornaments.
She has been decorating her home in Pontardawe, near Swansea, for eight years and last year raised £12,000 for charity.
Her husband has also built a nativity scene.
"I just love Christmas - and I want everyone else to love it as much as I do. It is well worth a fiver of anyone's money," she said.
"I have thousands of beautiful intricately designed ornaments from all over the world but most have come from German Christmas markets.
"I went every year for 16 years and always came home with arms full of unique decorations."