'Crisis' in cemetery maintenance, says Church in Wales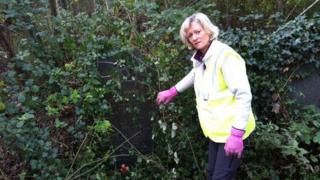 Hundreds of graveyards are disappearing under brambles, weeds and trees because the Church in Wales has neither the money nor the people to maintain them.
The body says it has a "crisis" in cemetery maintenance and predicts the problem will get worse because churchyards are filling up.
Once a graveyard is full, there is no income from burials to pay for maintenance.
The Welsh government said would explore the issue with the Church in Wales.
Volunteers recently spent a day removing thick vegetation from St Agnes church yard in Conwy.
Anna Bitowski said she wanted to do something after seeing the state of her grandfather's grave.
She told BBC Wales' Jason Mohammad programme: "I was horrified. It was quite upsetting. I remember coming here as a little girl and it was a beautiful cemetery.
"To come back years later and see it like this is very upsetting. It does hurt.
"My grandfather fought in the First World War, and suffered terribly after a gas attack. It shouldn't be like this."
Archdeacon of Bangor Paul Davies said: "It's a crisis for the Church in Wales, but it's also a crisis for communities.
"The Church in Wales finds itself in a really difficult position over churchyards. It's just become unsustainable."
Officials say some of the problems date back to 1920 when the Church in Wales split from the state, a process known as "disestablishment".
Mr Davies said councils take over the ownership of Church of England graveyards when they become full, but the same does not happen in Wales.
"It's a problem which is going to get worse, particularly because in the next five or six years, we anticipate that two thirds of our churchyards will have no more space for burials," he said.
"For the moment, we are extremely grateful to the volunteers who do their best to clear local cemeteries."
Arfon Plaid Cymru MP Hywel Williams, said he was concerned at the state of cemeteries in Bethesda and at Llanbeblig near Caernarfon.
He said: "A change in the law may be needed. But even that won't work without some money to back it up. County councils in Wales are facing cuts and can't easily take on more responsibilities, and I'm sure the Welsh government would say the same."
The Welsh government says it is sympathetic to the situation and is prepared to explore the issue with the Church in Wales.