The Silver Line helps 150 people in Wales each week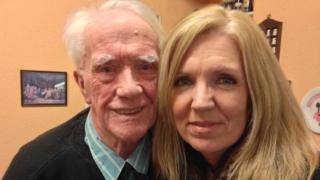 A call for volunteers to offer a listening ear has been made by a helpline charity which supports people coping with loneliness.
Since The Silver Line was set up by Esther Rantzen last year it has taken nearly 300,000 calls, with 30,000 from Wales.
It is supporting around 150 people in Wales with weekly calls.
Caller Chris from Llandudno said it has made a big difference to him since his wife moved into a home two years ago.
"You just have to live with the loneliness," he said. "It's very, very quiet in the house."
He will be spending the festive season on his own this year.
"Everybody calls me Chris but I was named Christmas because I was born on a Christmas Day," he said.
"I don't get anything, nothing at all. I've no family, no relatives. I just have to go along on my own."
'Feel a lot better'
But he says using The Silver Line has helped him as he now speaks regularly to helpline advisor Nicky.
"I look forward to her call every Tuesday and it's made me feel a lot better. It's something to look forward to."
The Silver Line has help centres in Preston and Edinburgh which receive around 1,200 calls a day.
"If it's appropriate we can transfer a caller to a specialist service," said Nicky.
"But I'd say loneliness is the underlying factor in most cases. Some people phone up just to ask the time."
Callers can ask to be matched with one of the charity's volunteers who calls them once a week for an informal chat.
The service has matched 1,100 callers with around 850 volunteers but it has a waiting list of 1,000 people.
"In Wales we are supporting around 150 people with weekly calls and we have 16 volunteers. It would be great to have more, especially Welsh speaking volunteers," said Nicky.
The work of The Silver Line in Wales is the subject of BBC Radio Wales' Eye on Wales programme on Sunday, 30 November at 12:30 GMT.