Wales v South Africa: Extra trains laid on for rugby fans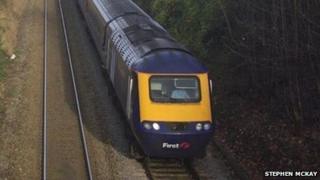 More trains have been put into service to cope with thousands of extra passengers heading to Cardiff for the Wales-South Africa rugby game.
First Great Western has added 11 additional trains with Arriva Train Wales putting on extra services for fans in north Wales and Chester.
The rail firms advise passengers to allow extra time at Cardiff Central station after the game.
A queuing system will be put in place for travellers heading home.
First Great Western is putting on almost 5,500 extra seats between Bristol and Cardiff, as well as strengthening other services for Saturday's game at the Millennium Stadium.
Additional services are being provided between London Paddington and Cardiff, Carmarthen and Cardiff, Bridgend and Cardiff and Bristol Parkway and Cardiff.
Arriva Train Wales is running two additional services north to south Wales in the morning and an additional return service.