Registration plate sells for a record £500,000 in Wales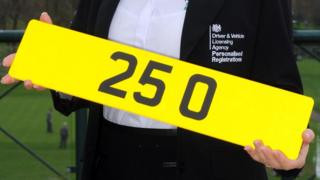 A personal registration plate has been sold at auction for £518,000, setting a new British record.
Registration "25 O" was sold by the Swansea-based DVLA during the event at The Vale Resort, in Vale of Glamorgan.
John Collins, owner of Berkshire-based Ferrari dealer Talacrest, bought the plate just three hours after paying £130,320 for the number "250 L".
Mr Collins said: "I was determined to own them, it was a case of how much I was going to pay for the privilege."
The DVLA has raised more than £2bn for the Treasury in 25 years of selling personalised registration plates.