Phillip Hughes: Simon Jones 'deeply saddened' by death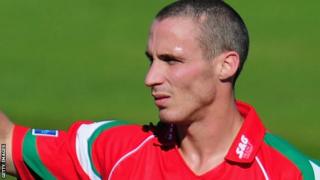 Welsh cricketer Simon Jones said the death of friend and former team-mate Phillip Hughes is "sickening".
Australian batsman Phillip Hughes, 25, died two days after being hit on the top of the neck by a ball during a domestic match in Sydney.
Jones and Hughes played together at Hampshire.
The former England and Glamorgan pace bowler told BBC Wales' Morning Call: "To find out he has passed away is deeply saddening."
Jones added: "The thing that struck me about Phil was his energy and his love for the game. He always wanted to get better, I didn't see anyone work as hard as him.
"This is a freak accident... my thoughts go to his family and friends but also the bowler, Sean Abbott."
Jeff Evans, a first class umpire from Llanelli who officiated several games Hughes played in, said his reaction to his death was one of "complete and utter sadness and shock".
"He was a great character and a lovely guy. It's an awfully sad day for cricket and sport", he said.