Pastor Clive Owen auctions Gilbern car for charity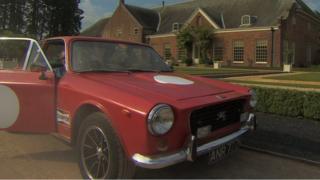 A pastor is auctioning off a classic car he vowed he would never sell so he can raise money for charity.
Clive Owen of Wellspring Christian Fellowship in Langstone, Newport, bought his 1971 Gilbern Invader MK II for £3,600 in 2012.
Around 1005 Gilberns were produced by Wales' only car company between 1959 and 1974.
Mr Owen went on the Antiques Roadshow and had his valued as being worth £8,000 to £10,000.
"My reply was 'I'd never sell it' which is true - I'm not selling it, I'm giving it away," he said.
Mr Owen said he had a re-think when in Israel on charity work in October.
"I saw a baby from Syria with his father. He had an operation a couple of months ago and had an infection.
Classic cars
"I looked down at this baby, he gave me the most beautiful smile and I thought: 'We've got to do more to help these babies.'"
Mr Owen will split the proceeds between Shevet Achim, which pays for children in the Middle East to have surgery at an Israeli hospital, Eden Gate, a homelessness charity in Newport, and Life Ministries in Uganda.
He said the price for classic cars has risen in recent years and has carried out work on the Invader.
Gilbern was founded by Giles Smith and Bernard Friese and the company bears the first half of each of the men's name.
The factory was based in Llantwit Fardre, Rhondda Cyon Taf.