NHS cancer delay 'prevented cure' of Katie Maytum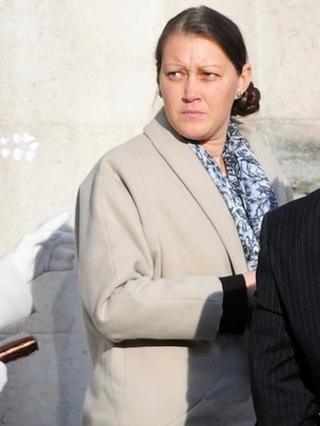 A terminally ill woman would have been cured of her cancer had she been diagnosed earlier, according to an expert witness at Cardiff High Court.
Katie Maytum, 35, of Maesteg, claims her case was not treated as urgent and is suing Abertawe Bro Morgannwg University Health Board for £750,000.
It admits a breach of duty.
Frederick Skidmore, of Wellington Hospital, London, said Miss Maytum would have had a 90% chance of survival if diagnosed five months earlier.
ABMU has admitted it failed to diagnose Miss Maytum, a mother of two, in August 2010 when her GP made an urgent referral for her to be seen at the Princess of Wales Hospital in Bridgend.
That diagnosis was downgraded by a consultant at the hospital which meant she was not seen until January 2011.
'Treated sooner'
She was diagnosed with breast cancer and underwent surgery and chemotherapy.
But she was told in April 2014 that the cancer had spread and that she only had two years to live.
Mr Skidmore told the court: "My opinion is she would have been cured of her cancer on the balance of all probabilities if she had been treated sooner."
However, an expert for the defendants, Prof Nigel Bundred, from the University Hospital of South Manchester, denied the claim.
He told the court that Miss Maytum had a particularly aggressive form of cancer and there would have been "no difference" had she been treated in September 2010 rather than February 2011.
'Chance of survival'
Justice Wyn Williams asked Prof Bundred to clarify.
"If a patient is treated in August 2010 there is a 90% chance of survival for ten years," he said.
"If a patient is treated in February 2011, it's an 82% chance of survival for ten years.
"The only difference I can see there is the five month delay. Is it not the case that the delay has contributed to the lessening of the chance of survival?"
Prof Bundred told the court that there would always be a minority of women who would not respond to treatment - whatever the timing.
The court also heard from another expert witness, Prof Justin Stebbing, professor of cancer medicine and oncology at Imperial College, London.
He said: "You have a woman here with an enlarging breast lump with a window of opportunity to cure, and that was missed by a mile here.
"The situation here is that by the end of autumn she'd developed a volume of disease beyond which it was very difficult to cure her.
"The reason we have two week guidelines is precisely because of cases like this. Because beyond a certain point you can't cure a patient.
"To say that Katie would die at the same time [whether she was treated earlier or not] is preposterous and the most ridiculous thing I've ever heard."
The case continues.