Malky Mackay: Cardiff City trust withdraw honorary role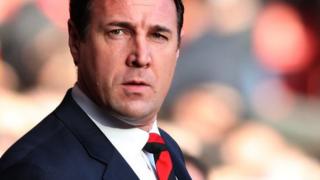 Former Cardiff City manager Malky Mackay has had his honorary membership of the club's supporters' trust withdrawn over his text messages scandal.
The Football Association is investigating his conduct while at the club, following allegations he sent racist, sexist and homophobic messages.
Cardiff City Supporters' Trust said its members had lobbied for him to be removed from his honorary role.
Mackay is now Wigan Athletic manager.
He was sacked acrimoniously by Cardiff City in December 2013 but was still supported by many of their fans.
He was awarded honorary membership of the trust for his achievement in leading the Bluebirds into the Premier League in 2013, ending their 52-year exile from the English top flight.
'Abhors racism'
But the trust, which has about 600 members, said it no longer wants him to have the role.
In a statement on its website, it said: "We have recently been in contact with anti-racist campaigners and our members have again lobbied us to take action over the honorary trust membership, originally awarded to Malky Mackay for his achievements as manager of Cardiff City.
"The trust is committed to working to bring together communities of all races and its partnership work with Show Racism the Red Card.
"The trust, which has been commended for that work, abhors racism, sexism and homophobic behaviour in all its forms."
Mackay has said he is not racist, sexist, homophobic or anti-Semitic.
He has said the messages were "completely unacceptable, and inappropriate".