Welsh parties fearful of UKIP, says MEP Nathan Gill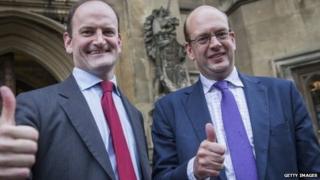 Political parties are equally frightened of the threat posed by UKIP, the party's Welsh MEP Nathan Gill said.
It follows the party gaining its second elected MP from the Conservatives in the Rochester and Strood by-election.
Mr Gill said UKIP's message was resonating with ex-supporters of all other parties.
"The [other] party leaders just attack us non-stop, they just can't help but mention UKIP," he told the BBC's Sunday Politics Wales.
"They are all very fearful of us.
"And the reason is because the message we've got, the message we share, we don't have to adapt it whether we're going down to a council estate or down a large driveway to a manor house.
"We can just give the same message to people."
Mark Reckless defected from the Tories to trigger the by-election in Kent and won back the seat for his new party with 16,867 votes, 2,920 more than the Conservatives.
Douglas Carswell, another former Conservative, won another by-election in Clacton last month for UKIP.
Wales Office Minister Alun Cairns, the MP for the Vale of Glamorgan, told the Sunday Politics Wales programme that UKIP had highlighted some serious issues on immigration but the UK government were addressing them even though David Cameron "had his hand tied behind his back" by his Liberal Democrat coalition partners.
In May's European elections UKIP came within a whisker of beating Labour for votes in Wales.
It topped the poll in Conwy, Flintshire, Denbighshire, Wrexham, Vale of Glamorgan and Powys.
It came second to Labour in four other constituencies, including Merthyr Tydfil.
Mr Gill added: "I've never changed or adapted my message, I just have the same one and we get the same result, and that's why the other parties are scared."
He said UKIP would be targeting Delyn, Alyn and Deeside and Merthyr Tydfil at next May's General Election, with more target seats in due course.
He said he would be "very surprised, and I would be very disappointed" if UKIP did not win a Welsh seat.
The BBC Sunday Politics Wales is available to watch on the iPlayer.