150 weapons surrendered to police in gun amnesty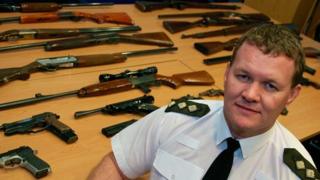 More than 150 weapons have been handed over to police in Wales during a two-week amnesty.
The campaign encouraged people to surrender illegal, real, fake, toy or antique firearms and ammunition to forces across the country.
South Wales, Dyfed-Powys and Gwent forces received a total of 100 weapons.
North Wales Police recouped the highest amount, and although the force does not yet have an official figure, they said it was at least 50.
A variety of firearms were given up, including handguns, rifles, shotguns, air weapons and revolvers as well as a "large amount" of ammunition.
Dyfed-Powys Police Ch Insp Ieuan Matthews said the response was "fantastic".
"We want to keep our communities safe and by removing these guns and ammunition with the assistance of the public, we are doing just that," he said.
"I would like to remind residents of southern Wales that our communities are a safe place to live and thankfully gun crime is not a part of everyday life in the streets of Dyfed-Powys, south Wales and Gwent."