School sickness advice leaflet 'may need replacing'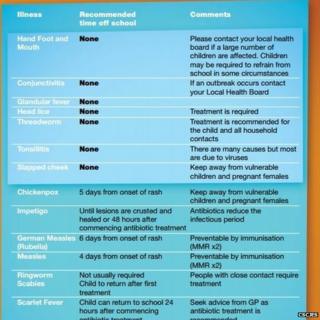 A doctors' organisation has backed calls to withdraw a controversial leaflet advising parents when to keep sick children home from school.
The booklet handed out in parts of south Wales says pupils should not miss lessons for illnesses such as glandular fever, tonsillitis or conjunctivitis.
The advice was said to have caused "confusion and anger" among parents.
The Royal College of Paediatrics and Child Health said the information had been "taken out of context".
The leaflet has been produced by the Central South Consortium Joint Education Service (CSCJES) for the councils covering Bridgend, Cardiff, Merthyr Tydfil, Rhondda Cynon Taff and Vale of Glamorgan.
A spokesperson for Rhondda Cynon Taff told Wales Online that advice from several health organisations had been sought before the leaflet was printed.
But Mountain Ash school governor and Rhondda Cynon Taff councillor Pauline Jarman said she had been contacted by parents alarmed that the leaflet said children should not take time off school for illnesses like tonsillitis and glandular fever.
Dr Mair Parry, child health officer in Wales for the Royal College of Paediatrics and Child Health, said the leaflet may need to be withdrawn as the table listing advice for different illnesses had been "taken out of context".
"It's not actually about the child who has the condition - it's about the children who don't yet have it and how to limit the chances of them getting it," she said.
"Whilst I understand the teachers' need to manage school absences parents feel very strongly when it comes to absence because of illness, which is only a small part of school absences.
"They [parents] are the best judge of whether their child is well enough.
"Whether their child is still contagious or not is a more medical question."
Liberal Democrat AM Peter Black has written to the councils and the Welsh government asking for the advice to be changed.
"It is no wonder that parents are unsure whether to send their sick children to school when the consortium has not understood the information that they are basing advice on," he said.
The advice on whether sick children should attend school comes as education watchdog Estyn wants high school attendance improved.
The consortium has been asked to comment.