Media changes discussed at Audience Council Wales seminar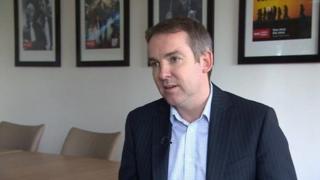 The changing broadcasting landscape and technological developments were discussed at a seminar attended by some of the leading media figures in Wales.
The BBC Trust's Audience Council Wales brought together about 50 people from the broadcasting world and public life at BBC Hoddinott Hall in Cardiff Bay.
Keynote speeches were given by Rhodri Talfan Davies, BBC Cymru Wales' director and James Purnell, BBC director of strategy and digital.
Demographic changes were also explored.
Prof Elan Closs Stephens, who chairs Audience Council Wales, said it was important to consider how well the BBC currently reflects the "many communities that exist in Wales".
"The broadcasting landscape is changing rapidly with technological developments seeming to appear ever more swiftly," she said.
"What does this mean for the BBC's mission in Wales?
"What does an increasingly diverse population in Wales think the licence fee should be providing for it?
"These are key questions for BBC Audience Council Wales in ensuring that the BBC listens to people in Wales.
"To do that it must also be clear about what Wales' population looks like in 2014 and what that means for the BBC's TV, radio and online services."