Police make Wild West-style arrest on horse back in Cardiff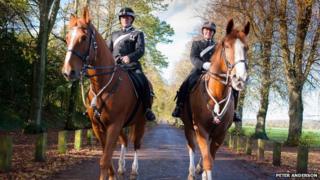 Police officers on horseback chased a man across Pontcanna fields in Cardiff to make a Wild West-style arrest.
PCs Sian Smith and Rick Lewis were in full ceremonial uniform before a passing out parade for South Wales Police recruits on Friday.
They were patrolling the road between Pontcanna and Llandaff fields and came across two men acting suspiciously.
When they started to do a police check on the men one made off on foot, with the horses in pursuit.
Horses, Rubin and Bodie, caught up with the suspect who was wanted after being recalled to prison.
PC Smith said: "We don't expect to make arrests when we are dressed in that uniform.
"But more importantly I guess the criminal didn't expect to be chased and arrested this way either."