Nasser Muthana: Friend's fear over IS Cardiff presence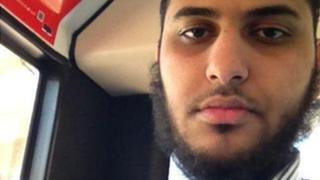 A friend of a Cardiff man who fled the UK to fight in Syria said he is worried about a presence of Islamic State (IS) members in the Welsh capital.
Police, however, have said they do not see Cardiff as a particular target.
It comes on the day it was claimed his friend Nasser Muthana was among 16 jihdaists in an IS video featuring the beheading of Syrian soldiers.
The 20-year-old's father Ahmed Muthana has denied it is his son, as has the friend, who is opposed to IS.
The video in question also announced the murder of US aid worker Abdul-Rahman Kassig.
The friend, who wishes to remain anonymous, told BBC Wales' Newyddion 9, he fears attacks could happen in Cardiff.
"Sometimes for terrorism, it's no longer London, London, London. With IS, a blood is a blood.
"If they kill a person in Cardiff it's the same as killing a person in London or Madrid or New York.
"We've got two people in Cardiff who appeared in a [recruitment] video. If they know exactly what's going on in the city they can aid IS to plan attacks in Cardiff not just beheadings but we could see bombs - maybe see another 7/7 bombings in Cardiff.
"I talk with people and they all condemn IS. I condemn them myself."
He said friends have spoken to Nasser Muthana and "there was a bit mentioned" that attacks could come to the UK because there are networks helping people to go to Syria to join IS.
But he added he knows of people in Cardiff have resisted attempts to join IS.
South Wales Police assistant Chief Constable Richard Lewis said: "Cardiff has a strong and peaceful Islamic community which has long distanced itself from the extremist views reported.
"All of Cardiff city mosques have joined together and produced advice on 'What Islam Really Says' which promotes moderation not extremism."
He added: "Cardiff is no different to anywhere else and we do not see the city as a particular target."
It was claimed in The Daily Mail on Monday that Nasser Muthana was in the beheading video and quoted his father as saying: "It looks like my son".
But when he was shown the pictures by a BBC reporter, Ahmed Muthana said: "It doesn't look like him, much difference."
The friend who spoke to BBC Wales anonymously agreed. He said: "The two pictures clearly aren't him. I can assure you 100% that's not Nasser."
The man in the video who was believed to be Nasser Muthana is standing to the right of a Briton - dubbed "Jihadi John" - who is dressed in black with a balaclava, while the rest of the militants wear army fatigues.
Western intelligence officials are trying to identify those seen in the video.
Nasser Muthana, a would-be Cardiff medical student came to public attention in June when he appeared in a propaganda video by IS urging others to join him.
He was seen alongside another man from Cardiff and a man from Aberdeen.
Mr Muthana's other son Aseel is also thought to be in Syria and has previously said in a BBC interview he had no intention of returning to the UK.