Families' grief at men's 'infected' Cardiff kidney ops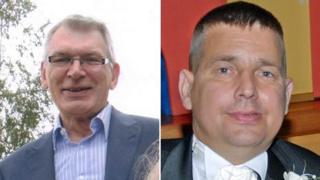 The father of one of two men who died after kidney transplants allegedly infected with a parasitic worm has said he feels he signed his son's "death warrant."
Darren Hughes, 42, of Bridgend and Robert Stuart, 67, from Cardiff both received a kidney from the same donor.
The transplants took place at University Hospital of Wales in Cardiff in December 2013.
An inquest is due to be heard at Cardiff Coroner's Court on Tuesday.
Darren Hughes's father Ian spoke of his grief at having signed the consent form for his son to have the operation.
It was the third time the married father-of-six had undergone kidney transplant surgery but due to a neurological condition which left him unable to hold a pen, he was unable to sign his consent.
It meant his father signed on his behalf.
"I actually feel that I signed my son's death warrant," said Ian Hughes.
Despite their experience, his parents Ian and Jacqueline have urged people not to be put off from giving or receiving donor organs.
Mr Hughes said: "Thanks to transplantation, Darren had a good life.
"So anybody out there who is waiting to have a transplant, please, when the organ gets offered, accept it. Go for it. Because that person's life will be much improved."
His wife, Jacqueline, added: "This has been a tragedy, a real tragedy for all of us in the family and we don't really want people to be put off.
"We want people to carry on having transplants."
The second man who died was Mr Stuart - known as Jim by his family. His widow, Judith, said her family needed answers to what had happened.
"Jim was very optimistic about the operation. This would have made a huge difference to him - it would have meant he didn't have to be on dialysis. He was very fit and healthy, always played a lot of sport and had coped brilliantly with dialysis," she said.
"So when it happened it was absolutely devastating.
"We were extremely upset as you can imagine - he'd only gone onto dialysis six months earlier and he'd been coping with it so well.
"We had great plans for what we were going to do in our retirement but now that's all gone - all gone.
"This last year had been very, very hard, each anniversary has been very hard.
"The birth of my granddaughter was a joyous time but equally a distressing time. Jim should have been there to see it. And we need answers."
Mr Stuart's daughter Elinor Parks, who lives in Bristol, said: "It was a rollercoaster. It had seemed to go so well so our expectations were so high and then suddenly in no time at all it was like rock bottom.
"He had so much to live for."
The donor of the kidneys also died from the same infection, according to solicitors Irwin Mitchell, lawyers for the families.
There have only been five cases in the world of people of people diagnosed with the infection, and all have died, the firm says.
Irwin Mitchell says both Mr Stuart and Mr Hughes died of infection caused by a parasitic worm known as halicephalobus, which lives in soil and is often found in horses.