Call to stop £11m M4 relief road spending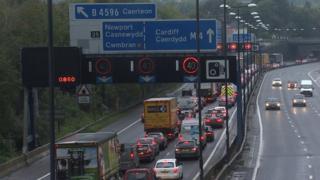 Spending on a controversial M4 relief road should be stopped because it will cost £11m in preparation work over the next two years, claimed Plaid Cymru.
The so-called "black route" between junctions 23 and 29 goes through the Gwent Levels and is the Welsh government's current preferred choice.
But Plaid wants a cheaper route found.
The government has been asked to comment but it previously said no other option could "reasonably deliver the objectives".
A final decision about which route the new road will take is not likely to be made until after the next Welsh assembly elections in 2016.
"This is a deeply unpopular route which has very little public support and needs to be ditched," said Plaid's economy spokesperson Rhun ap Iorwerth.
"Money earmarked for this £1bn blunder needs to be pumped into other road schemes across Wales."
Figures obtained by the party under a Freedom of Information request claim to show the projected costs, such as environmental assessments and design work, for the current financial year is £4m.
An extra £7m is also expected to be spent in 2015-16.
Opponents of the project include opposition AMs, two former Labour ministers and environmentalists.
It already faces the prospect of legal challenges from conservationists.
Last week, BBC Wales also revealed that the Welsh government owns more than £12m worth of property along the so-called black route.
However, Economy Minister Edwina Hart denied it influenced her decision in favour of that option.